mobiTOUCH – MT COCKPIT
Intuitive work progress status display and tracking
mobiTOUCH provides comprehensive overviews and views of all relevant data as standard. To enable every company to prepare information flexibly, mobiTOUCH integrates MT COCKPIT, a tool that generates specifically designed views of the database. With a catchy editor, new cockpits are created and existing cockpits are maintained at any time, without the need to adapt the database.
MT COCKPIT visualises actual situations and developments starting from the status quo. This transparently displays the requirements of the material flow with their dispositive properties, such as:
Supplier cockpits

Dispositive ranges at item level (item receipts and issues)

Line cockpits of production

Calculated MRP ranges at the level of calculated BOM component quantities

Requirements cockpits

BBD

cockpits (with delivery or loading date) at container or batch level
Transport resource utilisation charts
Cockpits provide information on stock movements and on dwell times of articles on different levels of the transport route of the respective transport chain. They thus serve as a working tool for creating intra-logistics key figures within the company.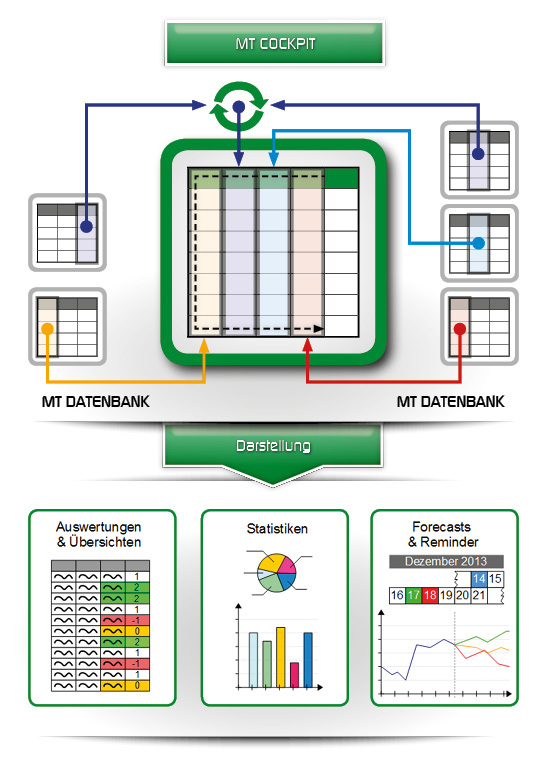 MT COCKPIT generates a variety of new views of existing database tables or creates completely new virtual tables in which all the required data from several tables are merged. If all relevant data for the department concerned are distributed over three tables, e.g. for goods receipt, MT COCKPIT creates a view that consolidates all required data. The relevant data is defined by the department itself. In this way, the best possible data view is prepared for each area in the company.
MT COCKPIT evaluates this data, e.g. to generate graphic statistics, simulate forecasts and provide a quick overview of deliveries or orders that are still open. In this case, the user does not have to evaluate different tables. All of these features can be integrated into the system.
All these features can be linked together to enable monitoring with a single cockpit. The data is always up to date. All views and data generated can be flexibly sorted, filtered and consolidated.